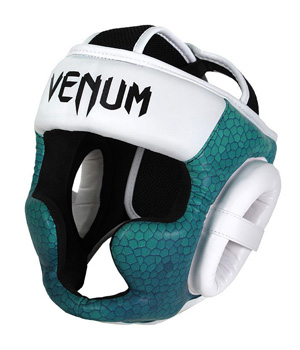 Premium quality head gear for an affordable price – now this is possible with this high performance head gear by Venum. You can't go wrong with these: Professional fighters have been asking for Venum equipment all over the world. Wanderlei Silva, Carlos Condit, Lyoto Machida, Frankie Edgar…they can't train with other gear anymore! 
    Hand made in Thailand
    100% premium Skintex leather
    Flexible, two-way velcro enclosure (vertical, then horizontal)
    Offers head, cheek, ear, and chin protection
    Contoured foam – triple density
    Embossed label and slick graphics
    One size fits most (sized similar to Regular) 
£51.99
Please speak to your instructor to purchase or for any other queries regarding this products.