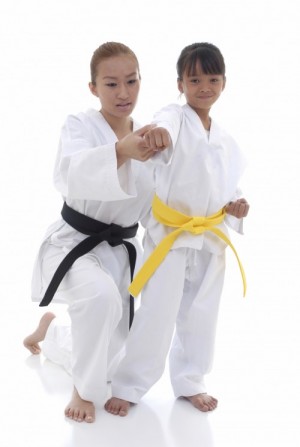 About The Club
Our Harpenden club is based in Roundwood Park School, Harpenden, and Hertfordshire. To the best of our knowledge it is currently the largest martial arts school in Harpenden. Classes include taekwondo, kickboxing, realistic self defence, and many other martial arts skills. We have tailor made children's martial arts classes, which are perfect for the younger kids. We also run beginner's classes for the complete novice, who has no previous experience in martial arts.
The taekwondo and martial arts school in St Albans is run by one of our senior ranked instructors Mr David Stanton 3rd degree black belt. It has the luxury of having many senior grade assistant instructors always on hand to offer that extra help to the students. Part of the success of our Harpenden School is the genuine family atmosphere that the club exudes. Everyone works together to help get the best out of each other, and there is a real community feel to the school.
The school is affiliated to the ITF – INTERNATIONAL TAEKWONDO FEDERATION – This is the world's foremost, original, and most authoritative taekwondo body. The club therefore comes with genuine credentials which you will find very hard to match. And you can be certain that the grades and qualifications you receive at the school will be amongst the most recognised in the world.
Whether you want to get fit, increase your confidence and focus, or learn in one of the best martial arts schools in town, then you are coming to the right place when you come to our Harpenden School. But don't just take our word for it. We invite you to BOOK A FREE TRIAL CLASS to see for yourself the difference we can make
Instructor
Senior instructor
Mr David Stanton 4th degree
Assistant instructors
Rod Western 2nd degree
Carlo Schettino 2nd degree